Award-Winning Recipes using Desperado's Homemade Sauces and Rub
I've been cooking again! You've go to try these new recipes.You now have the opportunity to create many delicious recipes by using Desperado's award-winning BBQ sauces and rubs. All the recipes listed below are sure to win the hearts of your family and friends. Most of the recipes are easy to prepare. Many of the recipes can use either of the award-winning Original sauce or the Sweet and Smokey sauce interchangebly.
​BBQ Chicken Chippers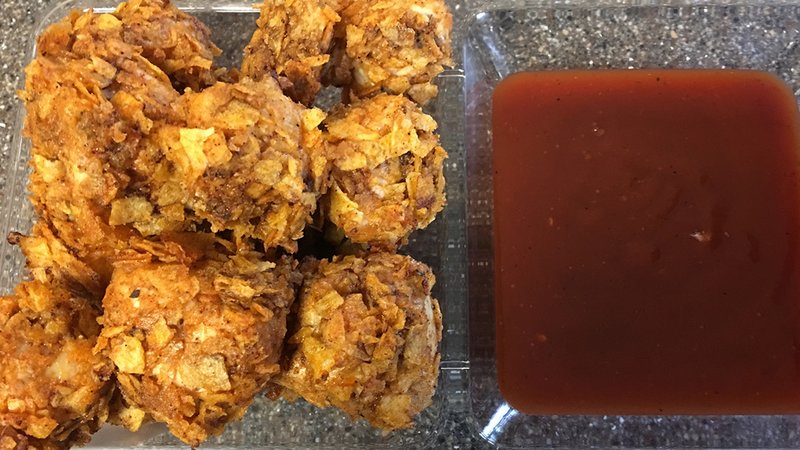 2 eggs
1/3 c milk
6 c crushed BBQ potato chips
10 oz boneless skinless chicken breasts cut into 1 1/2 in cubes
Preheat oven to 400 degrees. In one bowl, put the Desperado's Rib Rub. In another bowl, whisk together the eggs and milk. In a larger bowl, the crushed BBQ potato chips. Dip each chicken chunks into the rub, followed by egg and milk. Then roll each in the crushed chips. Bake on a greased sheet pan for 10-15 minutes. Serve with sauce for dipping.
Serves 4-6
​BBQ Meat Cups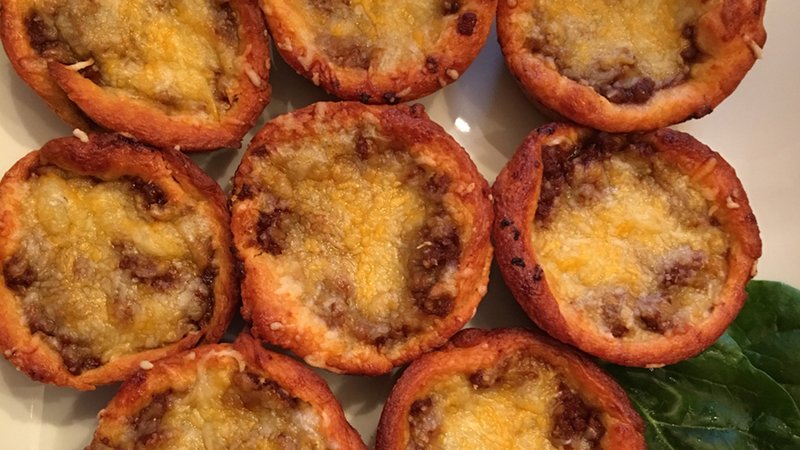 1/2 lb ground beef
1/2 lb sausage
1 10oz can refrigerated biscuits
1/2 c shredded cheese
Heat oven to 400 degrees. Grease 10 muffin cups. Combine ground beef and sausage in a skillet. Brown and drain. Combine with Desperado's Sweet & Smokey Sauce. Separate the dough into 10 biscuits. Place one in each of the 10 muffin cups and press up the sides. Spoon meat mixture into each of the cups. Top with cheese. Bake for 10-12 minutes until the biscuit edges are golden brown.
Makes 10
​Sweet and Sour Meatballs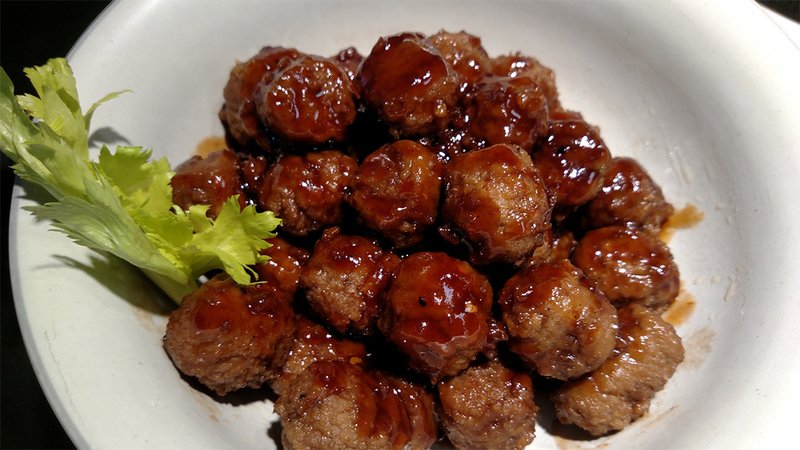 1 (32oz) bag frozen 1 inch meatballs
1 cup grape jelly
Combine grape jelly and BBQ sauce together in a saucepan. Cook until the mixture is smooth and begins to boil. Reduce heat to medium and add the meatballs. Stir occassionally until fully coated and the meatballs are hot. Pour into a serving dish or a crockpot to keep warm.
​Cheesy BBQ Garlic Potatoes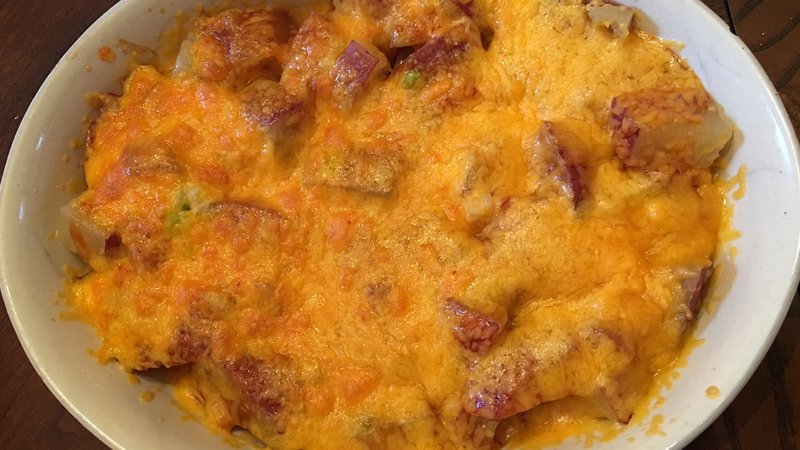 1 pound red skinned potatos, cubed
3 T butter
3 scallions, sliced and divided
3 cloves, minced
1/2 c shredded cheddar cheese
Cook potatoes in salted water until tender and drain. While they cook, combine butter, garlic and whites of the scallions in a small sauce pan. Saute for 2-3 minutes. Place the potatoes in a 1 qt greased casserole. Pour the butter mixture over the potatoes followed by drizzling the BBQ sauce. Top with cheese and broil until melted.
Serves 4-6
​Cheesy Chicken BBQ Dip
A hearty dip served with tortilla chips. This dip is easy to make and keeps people coming back for more.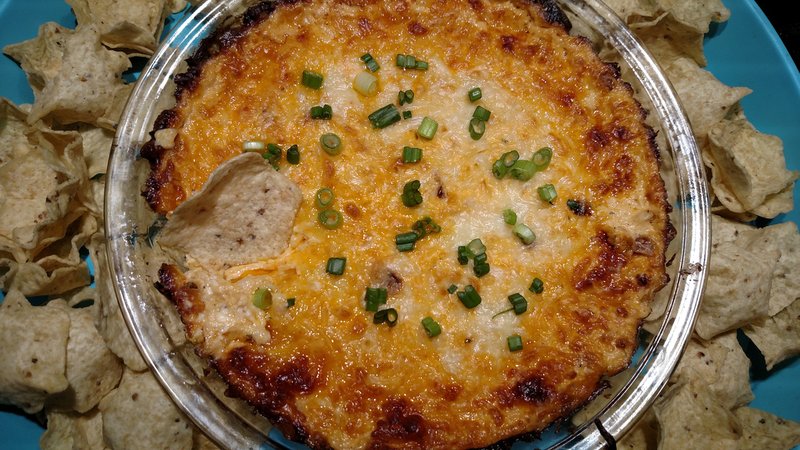 1 cooked chicken breast, chopped or pulled
8 oz cream cheese, softened
1/2 c ranch dressing
1 1/2 c shredded cheddar cheese
1/2 c shredded mozzarella cheese
2 Tbsp sliced green onion
Preheat oven to 350 degrees. Combine the first four ingredients in a mixing bowl. Mix until well blended. Spread into a greased 1 qt. casserole dish or pie pan. Top with the cheddar cheese and bake for 20-25 minutes. Remove from the oven and top with mozzarella cheese. Place under the broiler for 2-3 minutes until cheese melts. Remove and sprinkle with green onions. Serve with tortilla chips.
​BBQ Chicken Pizza
BBQ Chicken Pizza was very popular in our restaurant. You can use either sauce. Customers would also add bacon, mushrooms, and or pineapple to the pizza. Choices are limitless but it is the sweet taste of the sauce that sells the pizza.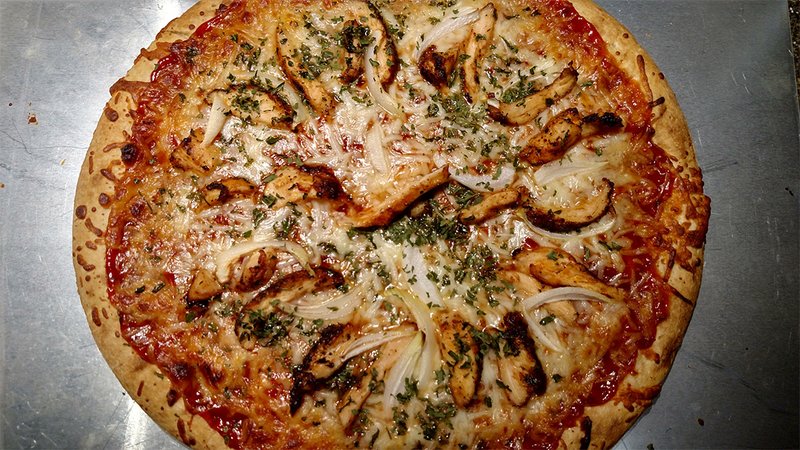 1 12 inch prebaked pizza crust (We use "Boboli")
1 small chicken breast
6 oz shredded mozzarella cheese
1/2 small onion, chopped
1/3 cup shredded cheddar cheese
1 tsp parsley flakes
Preheat the oven to 475 degrees. Season the chicken breast with the rib rub. In a small nonstick skillet, brown the chicken breast on both sides until the breast is no longer pink inside, usually about 3 -4 minutes per side. Remove from the skillet and cut into pieces. Set aside. On a cookie sheet, assemble your pizza spreading the sauce near the edge of the pizza crust. Sprinkle the cheeses on top. Top with onion, chicken, and other optional toppings. Finish by sprinkling the parsley on top. Bake until the cheese is melted and beginning to brown.
​BBQ Kielbasa Bites
18 oz of beer
1/2 c brown sugar
1 Tbsp minced garlic
1/4 c Dijon mustard
2 pounds kielbasa (polish sausage) cut into 1 inch pieces
Combine beer, BBQ sauce, brown sugar, garlic, mustard and rub in a medium sauce pan. Cook the sauce over medium heat about 30 minutes. Set aside. Saute the kielbasa in a skillet until fully cooked. Add kielbasa to the sauce and cook the flavor into the sausage about 15 mintues. Serve or keep warm in a crockpot.
​BBQ Beer Wings
If our three homemade award-winning sauces are not enough, here's a wing that combines the best of the best -our great BBQ sauce and beer!

Jazz them up with zebra sesame seeds for an upscale taste and a slight crunch!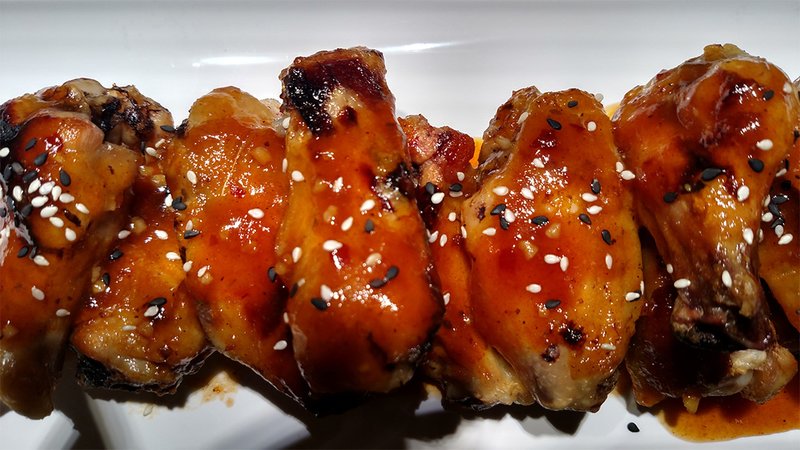 50 frozen wing pieces
8 oz beer
1/2 cup brown sugar
1 Tbsp minced garlic
1/2 cup honey
2 Tbsp butter
1 Tbsp zebra sesame seeds (optional)
Preheat oven to 375 degrees. Place wings in a single layer, on a cookie sheet with sides. Reserve 1 Tbsp Desperado's Rib Rub. Sprinkle the remaining rub on the raw wings. Bake in the oven for about 45 minutes or until chicken juices are clear in color. Turning half way through the baking time.
While the wings are baking, combine all the other ingredients in a sauce pan. Bring to a boil, turn the heat to low stirring occassionally. The sauce will thicken.
When the wings are cooked, drain any liquid, drizzle half of the sauce on the wings. Place in the middle of the oven and turn the oven to broil. Watch the wings closely to prevent burning the wings. Allow the sauce to carmelize. Remove from the oven and place in the serving container. Pour extra sauce on top. (Desperado's Hotter than H Sauce can kick up the wing heat). Sprinkle sesame seeds on top if desired.